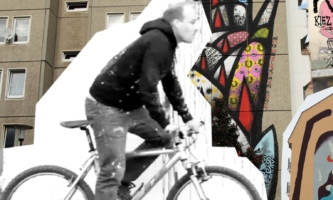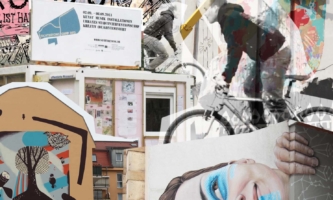 Urban art bicycle tour
in cooperation with Roads Festival Dresden
Urban art bicycle tour through street art and mural history of Fröbtau with Jens Besser
Fröbtau unites the Dresden dirstricts of Friedrichstadt and Löbtau.
Fröbtau – that means unauthorized graffitis at abandoned factories in the 90's, illegal urban art shows in empty residential houses and street art posters by the group NOLOGO in 2000's.
Fröbtau – that means official large sized murals of the project "RAUM City Bilder" from 2011-2014, the Sichtbetong – Camp 2013 or since 2016 the Roads Festival.
Since 1989 the appearance of Fröbtau changed intensively. Contributions of local actors like riesa efau, Friedrichstadtzentral e.V., konglomerat e.V. or Jens Besser lead to diverse alternative life in the districts of Friedrichstadt and Löbtau.
Jens Besser operates globally as muralist. In the 90's he already started his activities in urban design in Fröbtau. Later Besser invited international artists in projects at Motorenhalle e.g. "Muralismo Morte" or "Conceptual Vandalism".  2011 Besser started to curate the public gallery "RAUM City Bilder" in cooperation with riesa efau.
The urban art bicycle tour invites to discover the prospering urban district of Fröbtau.
The tour is part of Roads Festival .
Start 14.10.2017 – 2p.m. – riesa efau /Adlergasse Crossing Wachsbeichstraße
Duration of the tour is 2 hours. Please bring your bicycle.
contribution fee: 5€ reduced / 7€ regular
deutscher text___________
Urban-Art-Fahrradtour durch die Street-Art- & Wandbildgeschichte Fröbtaus mit Jens Besser
Fröbtau, Friedrichstadt+Löbtau, ist nicht nur der Stadtteil des städtischen Krankenhauses, der Poco-Großmarkthalle oder des Dynamo-Fanprojekts.
Fröbtau – das sind ungenehmigte Graffitis der 1990er Jahre auf Industriebrachen, illegale Urban-Art-Ausstellungen in leeren Wohnhäusern und Street-Art-Plakate der Gruppe NOLOGO in den 2000er Jahren.
Fröbtau das sind die offiziellen großformatigen Wandbilder des Projekts "RAUM – CityBilder" seit 2011, das Sichtbetong – Camp 2013 oder das Roads Festival seit 2016.
Das Erscheinungsbild Fröbtaus hat sich seit der Wende stark verändert. Das Mitwirken lokaler Akteure wie riesa efau, Friedrichstadtzentral e.V. oder Jens Bessers führte zu vielfältigem alternativem Leben im Stadtteil.
Jens Besser ist ein weltweit aktiver Wandkünstler. Er startete seine stadtgestalterischen Aktivitäten bereits in den 1990er Jahren in Fröbtau. Später lud Besser internationale Künstler zu Projekten wie "Muralismo Morte" oder "Conceptual Vandalism" in die Motorenhalle ein. 2011 begann Besser die öffentliche Galerie "RAUM – City Bilder" in Kooperation mit dem riesa efau zu kuratieren.
Die Fahrradtour mit Jens Besser läd zum Entdecken des aufblühenden Stadtteils ein.
Die Tour findet im Rahmen des Roads Festival statt.
Start 14.10.2017 – 14 Uhr – Riesa efau / Adlergasse Kreuzung Wachsbleichstraße
Die Tour dauert knapp zwei Stunden. Bitte bringen Sie ihr Rad mit.
Unkostenbeitrag: 5€ ermässigt / 7€ regulär