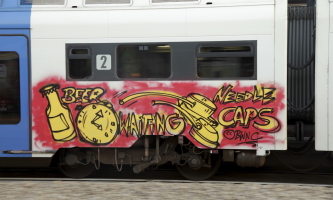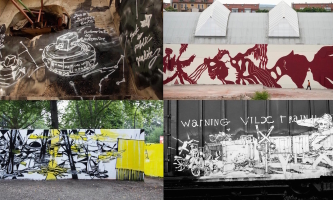 Beer Waiting Needle Caps – Ausstellung
in Kooperation mit Hole of Fame
english text below
BWNC sind der Italiener Aris, der Däne Anders Reventlov, der Franzose Vilx und der Deutsche Jens Besser. Gegründet wurde die Gruppe standesgemäß an einem Sonntagnachmittag in einem Gefängnis.*
"Beer, Waiting, Needle Caps" steht für einen gemeinsam verbrachten Nachmittag hinter Gittern, an dem es an Bier, Needle Caps und Zeit nicht mangelte. Sehr wohl mangelte es jedoch an Sprühdosen – auf die man gemeinsam im Knast vergeblich wartete. Nach der "Entlassung" trennten sich die Wege, doch die Idee der Gruppe blieb erhalten und es wurde der Entschluss gefasst, 2016 gemeinsam Ausstellungen zu realisieren.
Die erste Reunion fand im Dresdner HOLE OF FAME statt.
Vom 29.April 2016 bis 7.May 2016 war die Ausstellung "Beer, Waiting, Needle Caps" zu sehen.
Während des gesamten Ausstellungszeitraums gab es Interaktionen der beteiligten Künstler – im Innen- und Außenraum. Präsentationen der beteiligten Künstler boten dem interessierten Publikum die Möglichkeit, mehr über die Künstler und ihre Arbeitsweisse zu erfahren, oder direkt mit den Künstlern ins Gespräch zu kommen.
* Von Mai bis September 2015 fand im ehemaligen Knast der Landeshauptstadt Magdeburg die internationale Ausstellung "Die neue Sinnlichkeit" statt. Dorthin eingeladen, realisierten die Künstler einzeln und gemeinsam Wandbilder als Teil von "Antimurals".
Anlässlich der Ausstellung erscheint ein limitierter Katalog.
BWNC are the Italian Aris, the Dane Anders Reventlov, the Frenchman Vilx and the German Jens Besser. The crew was founded during a sunday afternoon in a prison.*
"Beer, Waiting, Needle Caps" stands for an afternoon spend together behind bars with no lack of beer, needle caps and time. Only spray cans were missing, the artists waited in vain for the most important materials.
After the "release" their paths went separate ways, but the idea of the crew  continued to exist. Later the decision was made to realize exhibitions in 2016.
The first reunion took place at the exhibition space HOLE OF FAME in Dresden/Germany.
period of the show: 30.4.2016 – 7.5.2016
* Aris, Anders Reventlov, Vilx and Jens Besser stayed together in the former prison of Magdeburg for the art project "Die Neue Sinnlichkeit". All artists realized large sized works on walls for the curated sub-project "Antimurals".
After the show a limited documentation has been published.