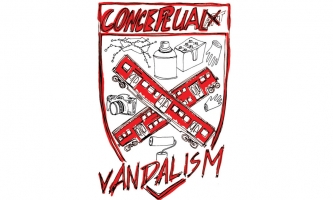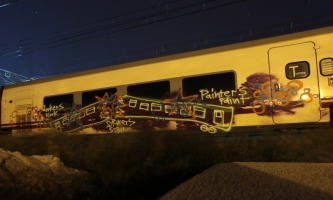 Conceptual Vandalism
kuratiert von Jens Besser
for english text version scroll down 
Mitte der 1980er schwappte das US-amerikanische Phänomen U-Bahn Wagen zu besprühen nach Europa über. Da es in wenigen Städten großflächige Metrosystem gab, konzentrierte man sich auf andere Nahverkehrsmittel . S-Bahnen und Regionalzüge schienen das perfekte Pendant zu sein, um die amerikanischen Vorbilder zu imitieren. Die Writing Ideologie "Schreibe deinen Namen so oft wie nur möglich auf Zügen" wurde dabei übernommen.
Seit 2000 sind neue Tendenzen zu entdecken. Das simple Namedropping wurde einer Gruppe Sprüher zu langweilig. Sie entwickelten neue Strategien auf Zügen zu malen. Bis 2009 war es eine kleine Gruppe an Zugkünstlern die sich vom klassischen Writing auf Zügen getrennt haben. Seitdem scheinen, durch den Einfluss des Internets, immer mehr Writer das "Züge Verkunsten" als ernsthafte Strategie zu begreifen.Conceptual Vandalism fasst eine Gruppe Zugmaler zusammen die bereits vor 2009 im non-writing Kontext konzeptuell auf Zügen arbeiteten.
Werke der Ausstellung
Die Originalkunstwerke werden in Deutschland immer binnen kürzester Zeit zerstört. Die Fotografie ist das am weitesten verbreitete Medium zur Dokumentation der Werke. Deshalb zeigt die Ausstellung vor allem dokumentarische Fotografie. Ergänzt wird der Inhalt durch Skizzen, Objekte, Videos und Internetinhalte.
Künstler
An der Ausstellung beteiligen sich Künstler, die nicht öffentlich in Erscheinung treten. Die Künstler aggieren ausschließlich im Untergrund. Zugmalerei ist bis heute illegal und wird strafrechtlich verfolgt.
Seit 2010 sammelt der Kurator Jens Besser auf dem Trainworks-Blog non-writing Zugmalereien imNetz. Nun werden erstmals unveröffentliche Bilder seiner umfangreichen Recherchen gezeigt.
Vernissage 30.11.2012, 20 Uhr, Motorenhalle, Dresden
Ausstellungsdauer 30.11.12-12.1.2013
Führungen durch die Ausstellung mit anschließendem Bahnhofsbenching : 8.12. & 5.01.
Vortrag im Rahmen der Ausstellung : 12.12.
Videoabend : 5.12.
Öffnungszeiten: Di-Fr 16-20 Uhr, Sa 14-18 Uhr
english text 
During the 1980s, the US-phenomenon to spray subway wagons spilled over to Europe. Because there were only a few cities with a large-scale subway-system, the sprayers concentrated on the local public transport system. The suburban trains and the regional railway system seemed to be the perfect counterparts to imitate the American model. Along the way, the sprayers adopted the writing ideology "write your name on trains as often as you can".
Since the year 2000, new trends have been discovered. A group of sprayers got bored with the simple "name-dropping". They developed new strategies to paint on trains. Until 2009 it was a small group of "train-artists" that separated itself from the classical writing on trains. Since then, through the impact of the internet, more and more writers have seemed to realize art-creation on trains as a serious new strategy. Conceptual Vandalism integrates a group of train-painters who were working conceptually on trains in the non writing context even before 2009.
Artworks of the exhibition
The original artworks are always destroyed in Germany in short time. Photography is the most common medium for the documentation of the works. Therefore, mainly documentary photos will be shown in the exhibition. It will be complemented by sketches, objects, videos and internet-contents.
Artists
Only artists who do not appear in the public space take part in the exhibition. They act solely in the underground. Train-painting is still illegal and criminally prosecuted.
Curator:Jens Besser